Bag of Donuts cover a wide variety of music from the 1960's through today's top of the pop charts, including TV shows, commercials and movies. They are a New Orleans based quartet known for their wild stage antics, outlandish costumes and strange renditions of popular songs. Since their creation in 1988, they have entertained and "offended" thousands of people by stealing their hearts as well as other peoples songs. Bag of Donuts remain a professional band with an outstanding reputation. Theyve won numerous awards throughout their animated history and perform 100 plus dates a year. In March of 1999, the Donuts released their debutCD "Glazed and Confused." Two years later they released their much-anticipated live CD, "Live in New Orleans," recorded at a sold out show at House of Blues. The band reinvented themselves in January 2011 with the change in front man Bobby Hoerner and the release of their EPK in August of 2011.
The band is made up of four characters: Kevin George is the thunder behind the storm, and has created an ingenious and comical way of utilizing a sample machine in conjunction with his drum kit. Jonathan Hoerner is the Kiss look-alike guitarist who makes sure the crowd doesn't forget the show is about rock and roll. Jerry Christopher, the Joker, adds more antics and jaw-dropping bass playing. Bobby Hoerner, added to the cast of characters in January 2011, has well over 20 years experience as a crowd-pleasing front man. The result has been a raw, sexier, more powerful band. These four members have many years of road training and entertaining under their belts and are ready to take this project to a new level. BOD remains a vital part of the New Orleans music scene as they continue to play large festivals, clubs and major sporting events.
The Donuts must be seen to be appreciated! There is an energy to their shows that is undeniable. They are guaranteed to make audiences of all ages laugh and enjoy themselves, provided they have beating hearts. With a little luck the world will come to know these whimsical, witty, yet humble fellows. Check them out at www.bagofdonuts.com and www.facebook.com/bagofdonuts.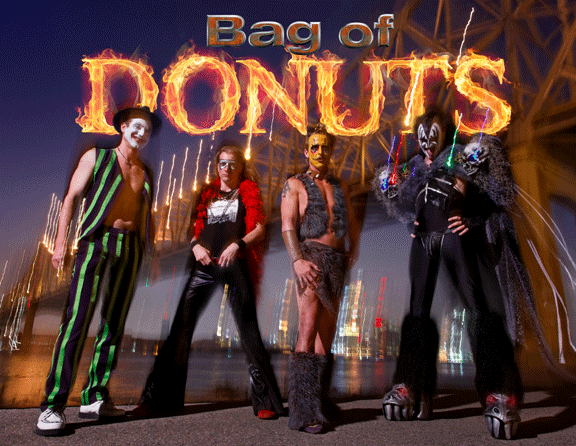 Bag of Donuts Song List
Enter Sandman
What I Got
Lump
Dammit
Small Things
Come Out and Play
Marilyn/Aguilera
Word Up
Calling Baton Rouge
Killing in the Name
Santeria
All Summer Long
Imma Be
Boom Boom Pow
I Gotta Feeling
Im Yours
Gives You Hell
Tik Tok
Halftime-YingYang
Suck My Kiss
Ants Marching
Bad Romance
I Used To Love Her
Evenflow
Feel Good Inc.
Crazy
Uprising
Good Morning Hater
Dance Medley:
Billy Jean
Dynamite
Forget You
All I Do Is Win
July 2011
Footloose
All Night Long
Relax/Hip Hop
Blue Orgy/Spin
Jessies Girl
Blister in The Sun
Pour Some Sugar
Holiday Road
Simple Minds
HungryWolf
Walkin on Sunshine
White Lines
Every Little Thing
DiscoInferno/Macho
Authority Song
Pink Houses
Should I Stay
Wildflower
Rock This Town
Stray Cat Strut
Apache
Melt With You
Dont Stop Believing
Jack & Dianne
80s Medley:
Take On Me
DancinWith Myself
Come On Eileen
Tainted Love
Jock Rock Medley:
Gary Glitter
Chelsea Dagger
Ting Tings
Hey Mickey
My Sharonna
Blitzkrieg Bop
Hokey/Hey Baby
Rock & Roll (Kiss)
War Pigs
Jeffersons
Brown Eyed Girl
Brick House
Roadhouse
Gloria
Borne To Be Wild
Burnin Love
David Allen Coe
Shake Senora
Scooby Doo
Sweet Transvestite
Magic Carpet Ride
Dukes of Hazard
What I Say/Doors
GoodLookin/Jamba
Mardi Gras Mambo
Play That Funky
Music White Boy
Kung Fu Fighting
Aint That A Shame
Saints Go Marching
Lost Lovin Feeling
Carnival Time
Im Gonna Be a
Wheel Someday
Sweet Emotion
Dance to the Music/
Everyday People
Circuit Agency Management